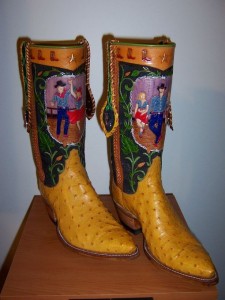 As a cowboy boot collector since 1996, I have found it hard to find belts in the styles or color combinations to match the boots I was collecting. I also teach line dancing and like to stand out in front of the class I am teaching. To resolve this problem I started making belts. The fashion world (or even my honky tonk world) does not live on black and brown belts alone. Not that there is anything wrong with black or brown belts, I'll make those too if you want as you will see in my gallery. But I love nice vibrant colors. Don't be afraid to stand out, or keep it as subtle and subdued as you want.
Since then I have branched out to all sorts of leather projects. If I can get a picture of it, I can tool it on leather! Here are just some examples of custom leatherwork projects I have created in the past.
Since starting my leather business in 2007, I've won numerous awards and have belonged to the International Internet Leathercrafters Guild (IILG).
Have a question or are ready to order? Contact me here.
Gift cards are available in any denomination.